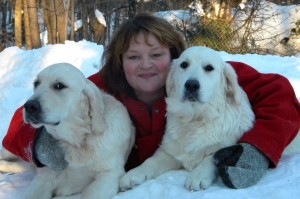 Strike Golden "English Style" Golden Retrievers, is more than the BEST and TOP Bloodlines and Pedigrees. It's about respecting the breed, the individual puppy/dog and maintaining the best breed standards.
We are forever grateful to our European friends, kennels and show judges. Without them, we would not own the BEST dogs in the world. Thank you for your years of improving the breed and keeping the great health histories in these wonderful dogs we call ours. We hope that you will take a few minutes to visit our site and really learn what makes us a bit different. My Note to you
We are not a kennel and never will be –  our goals are quite different. Our home is our where we raise, breed and love our momma's and babies. Due to that our home has been inspected and is licensed with the State of Wisconsin. "State of Wisconsin licensed & inspected: 402269-DS."
Purebred English Cream Golden Retrivers are distictive English style. English Cream puppies are all over the USA. WI, MN, TX, NJ, PA, NY, VA, RI, TN, KY, FL, CA, AZ, MO, SD, ND, MI, IL, OH, MT, CO. Most people refer to them as White Golden Retrievers. The English version of the retriever is a Golden Retriever with a slight boxier head and body. We are happy to discuss the differences if you'd like to call.