We are Reserving our Xmas 2017 litter. Angel has her puppies only once a year and so far, just in time to go home for Xmas.  Angel has a keen intuition and saved her family from a fire. The house was a total loss. Her owner had fallen into a Carbon sleep. She kept barking and eventually they woke up. She will be paired for a repeat breeding with Monty. Monty has a "Old Soul" and carries the most super gentle temperament.  Please contact me for more information on the parents, health and our Beginning socialization and training program.
Christmas Going home litter #2. Meela/Monty
Meela is the ideal Golden retriever. Intelligent and loves people. I call her my Hippy Girl. She just takes things are they happen and in no particular rush. She is a fantastic momma and sports, "Trampoline Jumping" as a hobby. Monty is the Old Soul male in our home. This will be a first time combination.
OUR SUMMER OF 2017 Puppies have all found their forever homes!
We Love our Summer Puppies!! Swimming and playing in the Pool.  We have now improved our potty training for the puppies. We've always "Door training" Last year we used the Walkout area. We had many families from the Summer 2016 puppies tell us that the puppies "Went to the door" and whined to go potty outside. We will again do this for our Summer 2017 puppies. Please visit our Training page.http://www.strikegolden.com/training/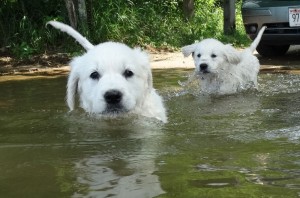 Since our females usually have puppies once a year. Summers are busy, teaching and training the newborns. We have one litter due just before Summer with Clover/Monty. Most of our litters will arrive in from Mid Summer to Early Fall. http://www.strikegolden.com/2017-upcoming-litters/ . Please visit our expected upcoming litters page for more information.
**NOTE: We Pre-reserve 3 Males and 3 Females of each litter combination
 before they are born. If you figure our average litter is 8-10 per litter, we will have 2-4 more puppies available once the litters are born. 
We do take back up names and deposits for any puppies after the top 3. If a 
puppy is not born for you, we absolutely will return your deposit. 
 We do this as to be Safe and try not to disappoint families. When waiting for a
 new puppy, it can be difficult to explain to a family or child that their puppy was
 not born. We are so grateful to our families who wait several months for one of our babies. Please call me personally for any information on our litters.
We are so grateful to all our families and the referrals for our puppies. It is pleasure to raise these little ones. So I take a lot of care in screening our potential families for their forever homes.  If you are interested in one of our litters, please call me. 715-634-2670. Or cell 715-558-6534. This is part of our "getting to know you" and for you to "Get to know us".  We believe that dogs bind us and help heal. So we've really become a close group and support each other through a Closed Strike Golden Family FB group
We have a very detailed in home training/socializing program for our puppies. If  you like your sleep at night? We are already training the puppies for you.  We have an actual  "Going Home Schedule and Lights out".  So from 5-8 weeks its best to send an email for any questions. We should mention that we are not a kennel and raise any of our litters in our home for the entire time they live with us. When we don't have puppies, we have a normal home. So we usually plan travel and dog shows during those times. So please leave a message with your phone number. I am really good about getting back within a few hours if I have a phone number. Thank you so much.